It's started. That itchy nesting feeling. I can tell I'm in trouble. In reality, though, we've wanted to re-do these two rooms since we moved in a year ago. There's just been other things to worry about. Here's where I need help: I have no idea what I'm doing. I'd love any/all suggestions you lovely readers can give me.

Let me start with the tour:

Rachel & Andrew's Room (and soon the baby too)
Yes. We are planning on all three in the same room. Is that crazy? R&A's beds bunk, so the crib will go where A's currently is. Things I like: their magnet boards, the color of the dresser drawers & shelf. The woody feel/look. Bright colors. I don't want to go white. Not in love with the picture frames, we just had a bunch already from our old apartment.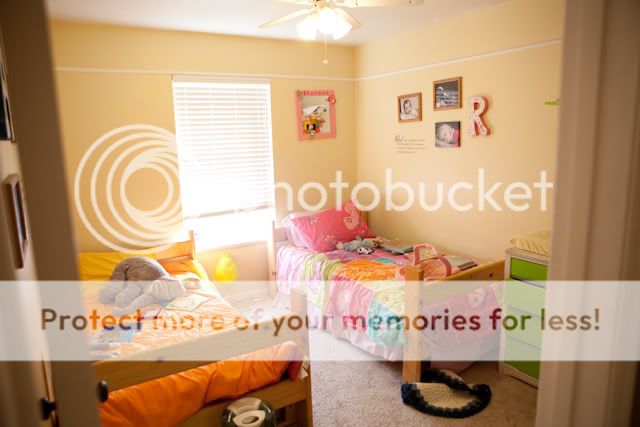 What would you do to decorate/remodel this room? The picture rail is obviously going, most likely replaced by crown molding. We have to repaint the ceiling. What color would you do the walls? (I hate the yellow). Would you do it all one color? An accent wall? Would you do any kind of paneling? What about curtains? What color would you paint the rest of the dresser (it currently has a coat of primer that is at least 2 years old). Closet system: with 3 kids where do you put all their clothes?
Would you change their bedding? What would you get for the crib (we currently have sheets only). Would you change the light fixture?

The Playroom
This is why they are all sharing a room. I can't give up my playroom/guest room. It's where Rachel has quiet time (and occasionally takes a nap), and there's really no other space for them to play upstairs while I'm cooking, we're doing dishes, etc. It's just convenient to have all the toys in one place.




This one mostly needs a paint job. Should I make the two rooms similar? I obviously like the bright color look, and I like my canvas jungle animals on the wall. It's just bright & cheery. Can I put curtains on this window? More shelves in the closet?

See, dear readers, why I need help? Are there books you love for inspiration? Websites? Any ideas would be great!